We have been learning about art. My favourite type of artworks are usually portraits of people that look realistic. I especially loved Pierre Renoir's paintings of people. My favourite was 'Girls at the piano'. I like it because it really looks like the girls are concentrating. Here is a picture of it:
A good painting of people will make you feel like you have known the person in the painting all your life. Here is another of Renoir's paintings I saw in Paris and really loved.
It is called 'Country Dance'. Here is it's opposite, 'City Dance':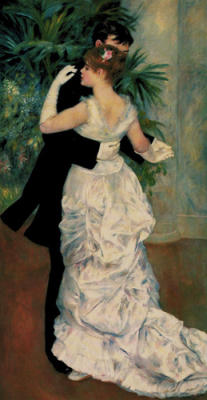 I like his paintings of people because it really feels like I could step into the painting with them. It doesn't look so realistic but it does look 'real'. He captures the expressions on their faces and shows them doing ordinary things.